CLAUS MØLGAARD IS EDUCATED ENGINEER, HOLDS A PH.D. DEGREE IN LIVE CYCLE ANALYSIS (ENVIRONMENTAL SCIENCE), A MINI MBA IN SUSTAINABILITY MANAGEMENT AND HAVE STUDIED SYSTEM TRANSFORMATION MASTERCLASSES IN LEADING SYSTEM INNOVATION AT SCALA ON STANFORD UNIVERSITY.
CLAUS MØLGAARD WAS THE FIRST IN THE WORLD TO ANALYZE THE ENVIRONMENTAL IMPACT BY DISPOSAL OF PLASTIC WASTE (DIFFERENT RECYCLING PROCESSES, INCINERATION, LANDFILL). THE WORK WAS PUBLISHED IN 1995 IN THE ELSEVIER JOURNAL "RESOURCES, CONSERVATION AND RECYCLING" – DOWNLOAD.
IN 1995 CLAUS MØLGGARD ALSO INVESTIGATED THE POSITION OF SUSTAINABILITY AT BANG & OLUFSEN. FOR INTERNAL AND EXTERNAL STAKEHOLDERS, THE POSITION OF ALL THREE PILLARS OF SUSTAINABILITY WAS INVESTIGATED.
AS CHAIRMAN FOR THE CABINET MAKERS AUTUMN EXHIBITION CLAUS MØLGAARD ORGANIZED THE EXHIBITION: "RE-THINK, RE-USE, RE-DUCE" IN 2019 ON THE DANISH ARCHITECTURAL CENTER (DAC). AS A PART OF THE EXHIBITION A PANEL DISCUSSION ABOUT SUSTAINABILITY WAS HELD (LINK TO VIDEO BELOW – IN DANISH).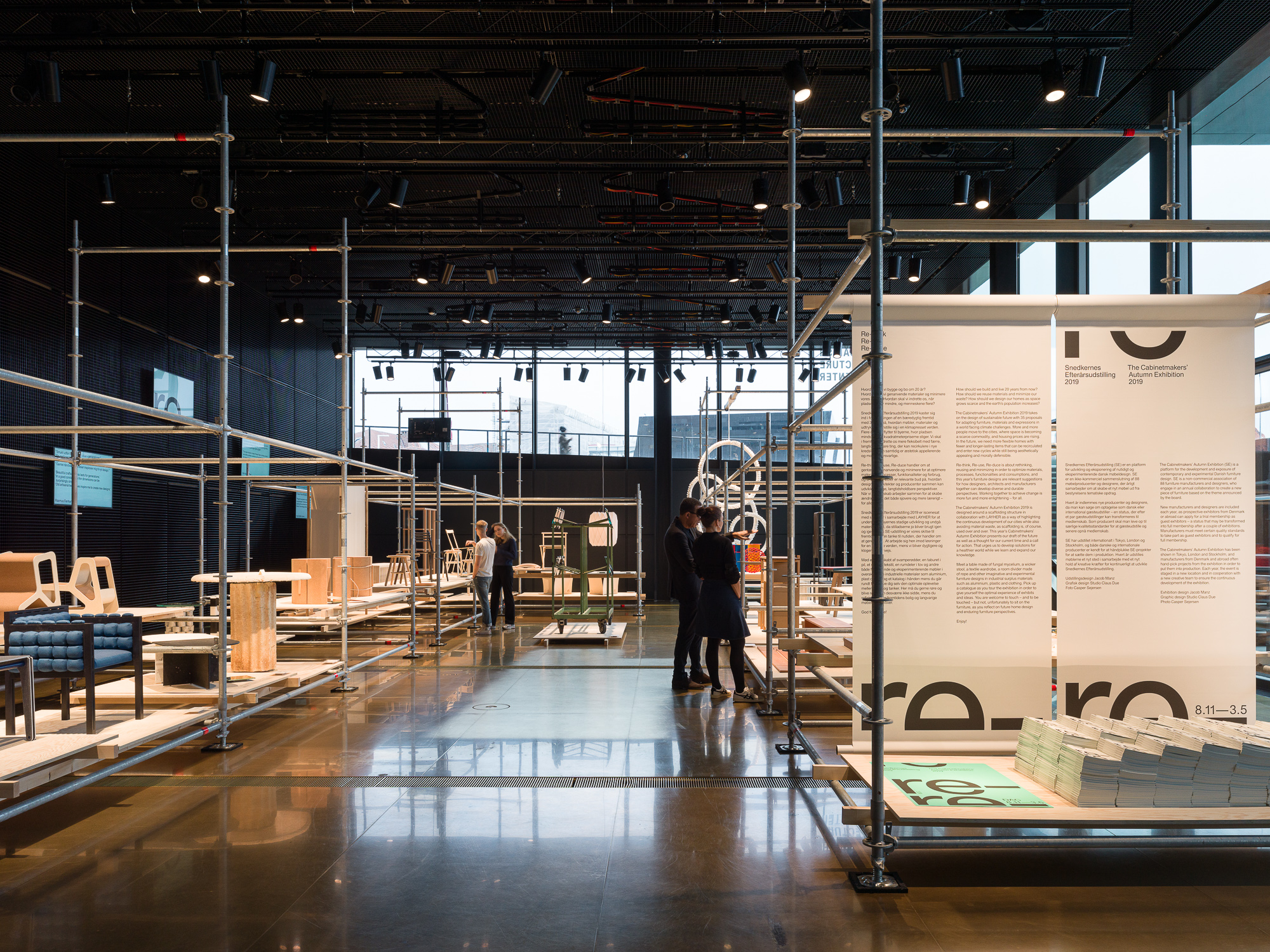 CLAUS MØLGAARD TODAY HELPS COMPANIES WITH SUSTAINABILITY STRATEGIES AND GIVES LECTURES ON THE HISTORY AND THEORY OF SUSTAINABILITY – DOWNLOAD PRESENTATION.
IF YOU ARE INTERESTED IN THE TOPIC OF SUSTAINABILITY, FEEL FREE TO DOWNLOAD SOME OF THE ARTICLES BY CLAUS MØLGAARD.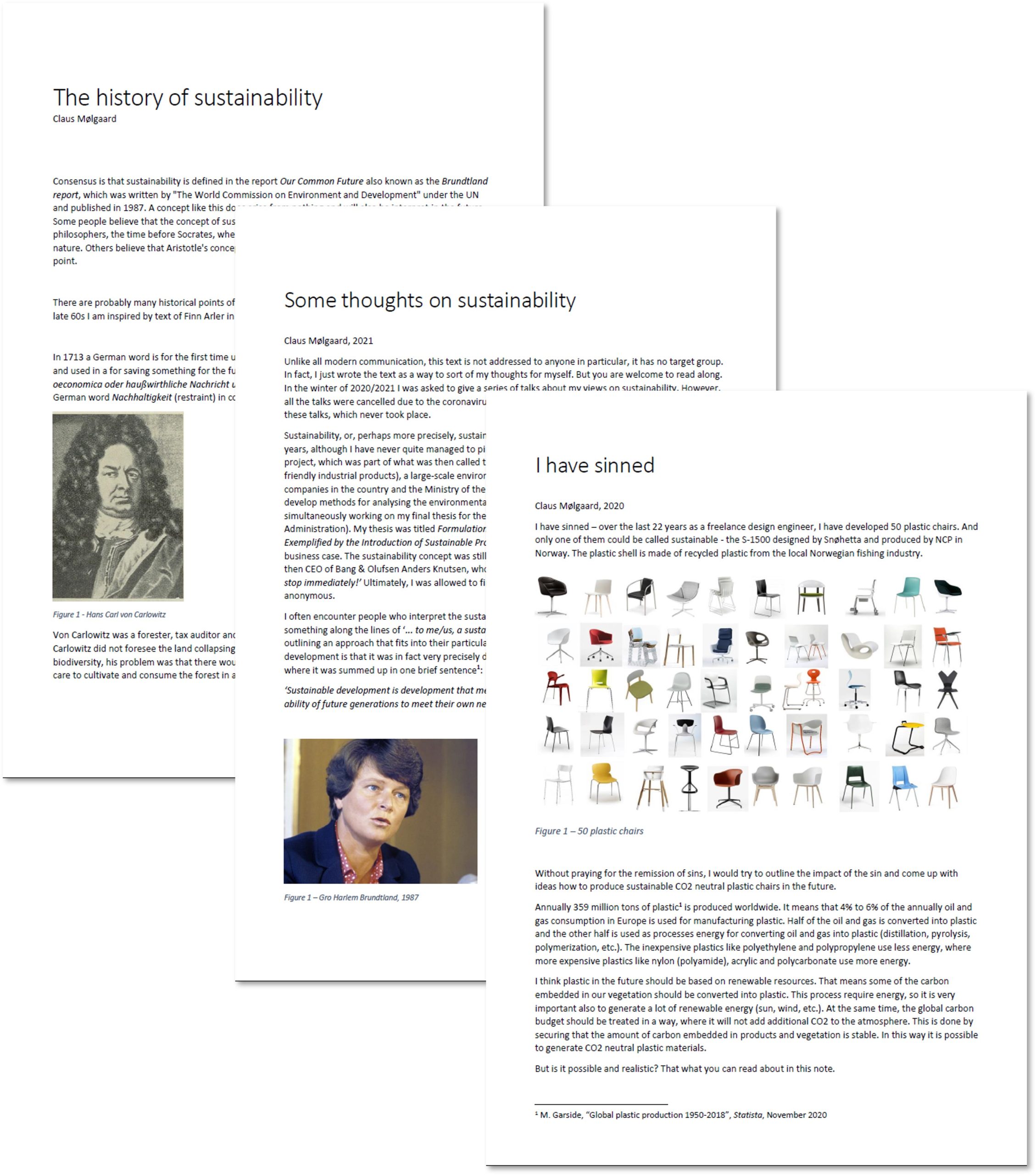 DOWNLOAD ARTICLES AND REPORTS:
SOME THOUGHTS ON SUSTAINABILITY
DON'T SPOIL THE CONCEPT OF SUSTAINABILITY
WORKSHOP BOISBUCHET (IN DANISH)
SUSTAINABILITY AT BANG & OLUFSEN (DIPLOMA THESIS IN DANISH)
Sustainabilty – history og theory (presentation at Royal Danish Academy 27.09.2023)
Notes – Sustainability – history end theory (Notes for presentation at Royal Danish Academy 27.09.2023)
LINKS TO VIDEOS FROM PANEL DEBATE AT "RE-THINK, RE-USE, RE-DUCE" EXHIBITION            (IN DANISH):
EPISODE 1 – HVORDAN STÅR DET TIL MED KLIMAFORANDRINGERNE
EPISODE 2 – HVORDAN HÅNDTERE VI KLIMAFORANDRINGERNE
EPISODE 3 – HVAD SKAL VI GØRE FOR AT FORHINDRE KLIMAFORANDRINGERNE – LAGRING AF CO2 I TRÆ
EPISODE 4a – CIRKULÆRØKONOMI – RECYKLING – DOWNCYKLING – UPCYKLING
EPISODE 4b – CIRKULÆRØKONOMI – RECYKLING – DOWNCYKLING – UPCYKLING
EPISODE 5 – LIVSSTIL – GENBRUG
EPISODE 6 – BIOBASEREDE MATERIALER
EPISODE 7 – BIOBASEREDE MATERIALER – SVAMPE
EPISODE 8 – MINIMALT MATERIALEFORBRUG
EPISODE 11 – ENERGIFORBRUG TIL INTERNETTET
EPISODE 14 – SKAL VI KIGGE INDAD